PROJECT: What's Left Behind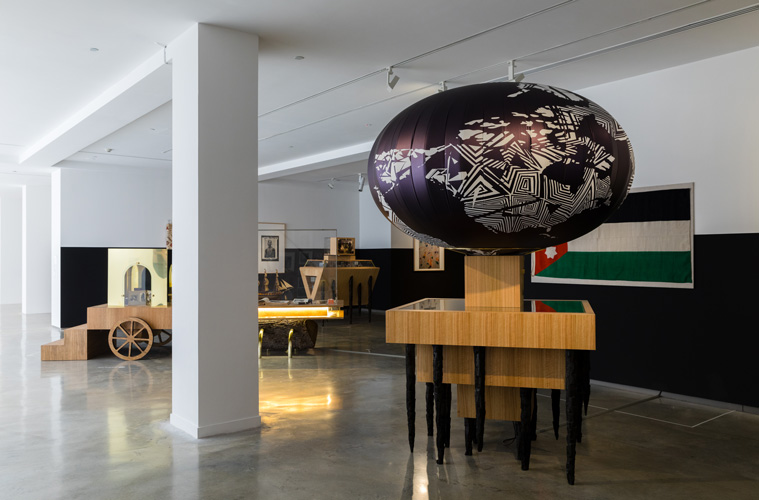 'What's Left Behind' 2018. A collaborative project by Brook Andrew, Rushdi Anwar, Shiraz Bayjoo, May Hachiya and Vered Snear
Installation view: 21st Biennale of Sydney, Museum of Contemporary Art, Sydney, Australia

21st Biennale of Sydney: What's Left Behind
SUPERPOSITION: Equilibrium & Engagement
Curated by Mami Kataoka, Museum of Contemporary Art, 2018
What's Left Behind, 2018, comprises five sculptural vitrines that represent the elements of water, air, fire, earth and metal. Brook Andrew invited four artists to contribute to the installation, asking each person to reflect on the idea of memory and that which is present yet also absent, and the way objects can have transferable and alternate realities and meanings, imbued with their own or substitute histories and stories. The contributing artists, Rushdi Anwar, Shiraz Bayjoo, Mayun Kiki and Vered Snear, have placed a combination of artworks and objects selected from the extensive collection of the Museum of Applied Arts and Sciences, Sydney, within each of Andrew's sculptural vitrines. Each sculpture represents an individual archive that is part of a collective installation that addresses the complex relationship between objects and the meanings that are attributed to them.
………………………………..
My art works are placed within one of Brook Andrew's sculptures "Tombs of thought", within his overall project titled 'What's Left Behind'. I arranged differing forms such as sculpture, ceramic, photography, collage, archival and found objects; using a diverse range of humble materials such as metal, smoke (soot), charcoal, wood, paper, concrete, plaster and pigment. These materials, process, scale and temporal quality of the work signify the meaning, content and context of the project.
The combination of these objects evokes and signify a connection within geopolitical history and socio-political trends and issues, in the recent history of Kurdistan, Iraq and the Middle East. In a broader context, they also address and articulate specific aspects of more global socio-political concerns. My objective is to highlight the human condition, to reflect upon how and when, under difficult situations humanity seeks hope and renewal. I consider art a means to extend and generate discourse about the status of social equity in a world increasingly divided with prejudice.
Within this installation I present an arrangement of artwork and archival material to unpack the political upheaval of Kurdistan and Iraq from 1914 to the present time. These are objects loaded with the misery of history, where the ruin of the past, and the present disillusion of its memory (caused by English and France as new colonies in the region) is represented by the inclusion of the book titled 'A Peace to End All Peace'. This book reveals how the Allies carved new lines of control, creating new countries of a 'Modern' Middle East – Iraq being one of the countries newly created. Beginning 1910, Kurdistan / Iraq has gone through great social and political upheaval, war and conflict. It has been almost a 100 years since the citizens of this country have not experienced peace, enduring violent conflicts and hostilities, until today.
Archival photographs printed on metal are included, picturing a 1920s British army camp in Kurdistan/Iraq. A few show Great Britain's Air Force bombardment of the city of Sulaymaniyah in Kurdistan, 27 May 1924 – the first air force attack in the history of Kurdistan. Also included are photographs referring to the fabricated establishment of The Hashemite Kingdom of Iraq in 1932 by Great Britain (see the flag of the Kingdom of Iraq; a money note; and 2 coins that refer to that period –  these items borrowed from the Museum of Applied Arts and Sciences, Sydney).
Also inside the installation are archival photographs and a book referring to the 1988 chemical attack by the Iraqi regime on the Kurdish people in Halabja, killing more than 5,000 people, leaving  more than 10,000 injured, who would later suffer long-term illness (see the photograph printed on metal with an image of the Iraqi war jet, which was used the day of the attack, and now displayed in the City of Halabja as remnant of the past; in addition to a documentary photo-book illustrating the victims and their plight following this incident).
Personal archival objects (such as medals indicating army operations of the time) are also included referring to the period following the 2003 Second Gulf War (or Iraq War), whereby  a combined army from the United States and Great Britain (with smaller contingents from several other countries) violently end the era of Saddam Hussein's Regime. This take-over brought fresh waves of political instability and sectarian violence and conflict in Iraq, made all the more hazardous with the eventual involvement of the Islamic State (IS) whose continued orchestration of control reeks vast human displacement today. A repaired bowl from Mesopotamia's 'Ur' civilization (from the MAAS collection) is displayed alongside a similar bowl I re-made, though here I imprint the USA army medal army onto its surface, alluding to the distraction of armed struggle in the seeking of a 'civilization'.
My objective here is to reveal the complicated landscape of these socio-political events, hoping to provide differing perspective on what it is to live in a conflict zone; what it is to inherit difficult issues of history and to consequently endure its ramifications. This project aims to be an emotional experience, conjuring sensitive moments of suffering and hostility, and beautiful moments of survival and renewal.