PROJECT: Re-frame "Home" With Patterns Of Displacement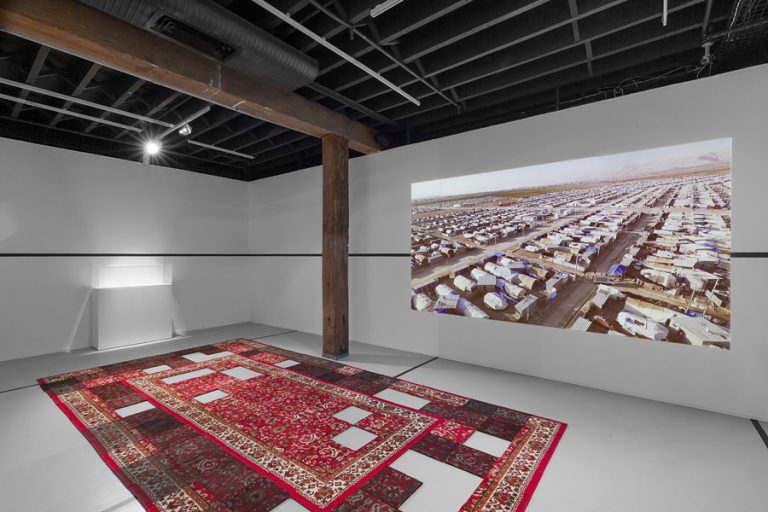 'Re-frame "Home" with Patterns of Displacement', 2019, Artspace Sydney, Exhibition '52 Artists 52 Actions', Installation view
Reframe "Home" with Patterns of Displacement, evokes the experiences of those facing socio-political persecution, revealing the psychological and physical difficulties suffered in longing for 'home'.
The initial inspiration for this work arose from my return to Kurdistan / Iraq in October 2016. I spent nearly four months working and researching its people and their living conditions. I encountered refugees from a diversity of backgrounds (Yazidi, Christian, Shabak, Sunni, Kurd, Arab, Syrian and other minorities), their daily living conditions occupied by unpredictability, a heartbreaking temporary environment.
In these camps, almost every family possesses carpets on their humble floor. Across the Middle East (and greater Persia), carpets of various sizes are commonly found – these are woven cultural symbols with a particular design. They are our dining table, our lounge, in effect the gathering place of family and community. I was struck by how these families still managed to own carpets in these desolate 'homes' in the refugee camps. For me, such carpets illustrated the refugee's need for a semblance of wholeness in their lives. In "Reframe "Home" with Patterns of Displacement" the carpet on the floor is not whole – they are discarded fragments – laid beside one another as if to re-construct the carpet's narrative, but the designs barely match up. The discord in pattern and irrevocable gaps between each carpet fragment stands as a harsh reminder of what can never be reclaimed and connected – of loved ones, loved cities, and adored friends that are now no longer.
Reframe "Home" with Patterns of Displacement is a kind of testimony, a monument to the many whose lives are in limbo, without justice, held against their will, with nowhere called 'home' to return.